As Halloween Time continues on at the Happiest Place on Earth, an ever-continuing evolution of the Resort also keeps moving forward. Aside from existing construction projects on the new AVENGERS CAMPUS Marvel-themed land, construction continues on the Pixar Pals Parking Structure and its new elevators, plus Project Stardust initiatives continue including at the entrances of both Tomorrowland and Adventureland.
A nice merch run awaits at the end plus a lot more in this latest park pictorial. ENJOY!
Well, Well!
The extended preview of MALEFICENT: MISTRESS OF EVIL has landed at Disney California Adventure but unlike previous previews which typically overtake the theater for a limited time, this preview is only available after 6pm every day while Mickey's Philharmagic continues playing daily from opening until 5pm.
MORE INFO: Sneak Peek! MALEFICENT: MISTRESS OF EVIL coming to Disney Parks with exclusive extended previews
APs Cornered
AP Corner at Disneyland Park commemorates the Halloween Time season is nearing its completion on your chance to get an exclusive photo-op and get a free magnet and button! ENDS September 30, 2019!
MORE INFO: AP CORNER for 2019 Halloween Time at Disneyland will focus on Oogie Boogie
The orange square button shown above is no longer available and instead a round Oogie Boogie button is being handed out to Annual Passholders.
Goldnerds
In celebration of the Wednesday season premiere of the ABC show THE GOLDBERGS, the Disneyland Opera House played host all-day long to screenings of the episode which takes the quirky '80s family on a National Lampoon style vacation to Disneyland.
Avengers Campus
The upcoming AVENGERS CAMPUS Marvel land coming to Disney California Adventure is rapidly moving along.
Around Disney California Adventure
Red Car Trolley station is still behind walls.
Would love for Buena Vista Street to expand the beautiful purple color scheme with more usage of these awesome putrid pumpkis. There's a few at Mortimer's and some at Carthay Circle but otherwise very scarce. They're an awesome contrast to the clean and vibrant pumpkins at Disneyland and fit in well with the Oogie Boogie takeover that seemingly increases each year. Kudos on the classy integration of sponsor Cuties. Would love it more with a more vintage look and feel to it.
Don't know why but I noticed that the layout of merch stands inside the Buena Vista Street shops has been re-arranged creating for wider walkways. Over the past year we've seen shops at the Resort sacrifice retail space in the interest of more navigable stores and it seems these shops are taking that initiative even further, perhaps in anticipation of purchase-ready crowds during Oogie Boogie Bash parties.
Another thing we're not entirely proud of noticing is inside Big Top Toys that Wishables are no longer being featured on this Feature shelf at the entrance to the shop. The last time we noticed this was with Disney Ufufy plush which were eventually moved to the back of the store and eventually never seen again. Could the relatively new line of Wishables be on the same track to cancellation?
The latest collection of Wishables brings grim grinning ghosts celebrating the Haunted Mansion's 50th anniversary.
Sigh. If they insist on pushing merch in this spot, really wish they would better theme the cart as a news or shoe-shine stand or something that better fits the surroundings. Looks so temporary and out of place.
Besides the addition of the MALEFICENT: MISTRESS OF EVIL at the Sunset Showcase Theater, we noticed that the old marquee entrance for the theater has been removed. Only the most scant traces of the former life of MUPPET-VISION 3D remain on the outside.
Tash cans cover the former footings for the massive marquee.
Walls are down at Guardians of the Galaxy – Mission: BREAKOUT.
The ground in front of the tower has been given a techny black and white look.
FastPass distribution is also back.
You can see just how closely the new Avengers Campus bleeds into the area with Pym's Test Kitchen restaurant construction visible over the former entrance into "a bug's land".
Yep, still no Mickey.
COCO Plaza de la Familia continues on through the Halloween Time season. Disney did a beautiful commercial for the event this year which you can see below.
Both Grizzly River Run and Redwood Creek Challenge Trail have been moved to reduced hours, opening an hour after park opening every day.
Looks like not all of the Oogie Boogie Bash decorations go into hiding.
Looks like the back trail remains closed during the day now, probably for staging of Oogie Boogie Bash support.
Around Disneyland
To help minimize lines at City Hall, a cart has been rolled out for self-service. We saw a few people self-service themselves with more than a few buttons each. Interesting to see this cart without a Cast Member posted. Main Street shops are also typically equipped with buttons and sharpies — another way to avoid City Hall lines.
Arendella Aqua continues spreading its pale shade of blue.
Toffee Covered Pretzels!
Adventureland entrance looking gorgeous.
A new thatched hut has appeared next to the sign similar to the one that formerly existed in the space.
The height of the new hut gives a nice continuation of the visual language established next door at the Enchanted Tiki Room.
The height of the new thatched structure mimics the look of the old entrance into Adventureland. Check out the AWESOME vintage photo on the right from @davelandweb! pic.twitter.com/4RFD7XICeQ

— MouseInfo (@MouseInfo) September 29, 2019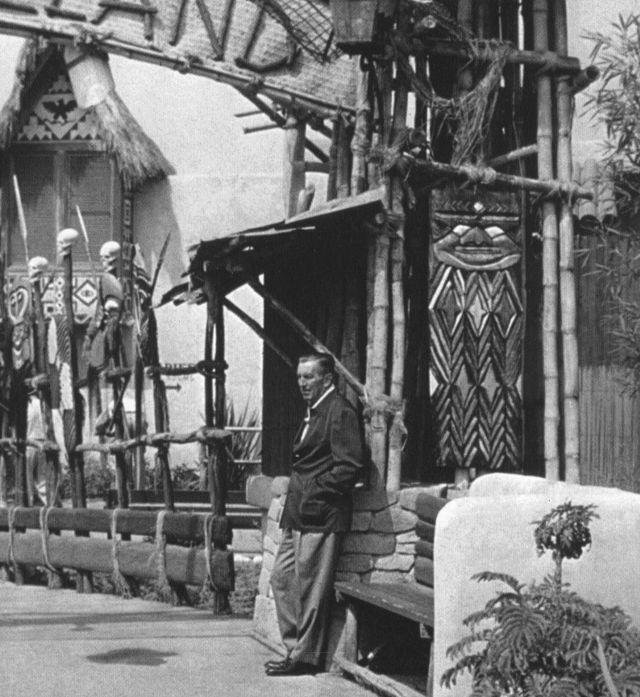 Backside of entrance.
Closer look.
With the spiffy new sign, we're wondering if maybe it's time for a rethink on the fountain at the Adventureland entrance? It's used to hide the restrooms — a good call considering it's the entrance into the land — but perhaps a new concept can be thought up here that frees up the walkway and/or adds extra seating to these very popular restrooms?
At any rate, the fountain is in desperate need of some sprucing up.
Work continues on rock removal and curb re-slopping at the Tomorrowland entrance.
The whole of the hub is nearly curb free on its outer rim.
The ugly stamped brick-work (left) should also soon be a thing of the past.
As walls shift around, it seems the new pavement at the Tomorrowland entrance is being painted black. Or perhaps with a primer shade of black?
The darker color is a nice contrast to be certain. Also, the little sharpie X we noticed a few weeks ago (before the new pavement was painted black) did in fact give away to a stanchion plug which will likely come to play in the evenings and/or whenever Disneyland is busy.
Meanwhile, the walls behind the Astro Orbitor are both behind walls. Is Disneyland's Tomorrowland under-going a similar unannounced rejuvenation like sister park Magic Kingdom in Orlando?
Meanwhile, the walls up near Space Mountain's exit and entrance remain.
Matterhorn is still sporting scaffolding and scrims over the waterfall where a small piece of the mountain fell off earlier this summer.
Oogie Boogie is on vacation.
We noticed Madame Leota can be heard summoning spirits to reside within the new jars. Her voice sounds great and seemingly would make a great replacement to the one currently inside the Haunted Mansion Holiday.
Batuu West looking decidedly a lot more like Batuu East with the cloud cover!
Rey was walking around the Resistance camp inspecting cables and interacting with the console panels. It's hard to fathom that an argument would be made that more entertainers to populate this world would not be a good thing. More atmosphere characters and interactions are sorely needed in the gorgeous new land.
Looks like Droid Depot has been selling Batuuan spira gift cards again.
The tax-included prices for bottled beverages at the ODV locations are $6 for soda and $4.25 for water.
At Kat Saka's Kettle the sales tax is added later so the prices are slightly lower to account however the $5.49 soda price with Anaheim's 7.75% tax rate would yield a total cost of $5.92 whereas the $3.99 water price would yield a total cost of $4.30. Compare that again to the ODV locations which charge $6 and $4.25 respectively and you can see you'll save a few pennies purchasing your bottled sodas at Kat Saka's Kettle but vice versa for water.
So if you like saving money where possible, even just based on principle, and you were planning to get one of each of the four special-branded bottles, then by getting your soda at Kat's and water at ODV, you can save 29 cents over making your purchase vice versa.
Both locations accept all major forms of payment whether you opt to save your 29 cents or not.
The Rivers of America (and the queue for Pirates of the Caribbean) are generally a good overview for how busy the park is overall. You can see based on these crowds, the final weekend of the Main Street Electrical Parade has yielded crowds that are pretty high — especially compared to most other weekends this summer — but not worst-case-scenario by any means.
Jack and Sally continue greeting guests during the day in New Orleans Square.
Meanwhile, after about 5pm, Madame Leota summons up some spirited companions with whom to greet. You might find Hitchhiking Ghosts or even Bride Contstance Hatchaway.
We've seen a lot of spider-eyed data pads raised in the evenings at the parks this past week. Night Mode Tests: Engaged.
Pixar Pals Parking Structure
By outward appearances, the elevator work at Mickey and Friends is speeding long rather quickly!
There's still a good amount of work left to do in and around the base of the new elevator, though.
You can see the doorways for the two new elevator wells.
Long lines in the morning. For some reason a lot of guests were using only the first two lines although there were several lanes open. It seems perhaps the new digital signage is not quite obvious enough. Perhaps color coding in red and green would help instead of just all-white?
Busy morning!
Final bit of work left near the Daisy escalator.
No Mickey icon statue yet. It will provide a visual cue similar to the Pixar Ball on the Pixar Pals side to help guests remember which side of the structure they parked on.
It looks like new smaller eye-level signs will be coming to the Mickey and Friends escalators mimicking the nice new ones at the Pixar Pals side.
Walls have gone up at one of the loading stations. On Wednesday, the entire station was blocked off but on Saturday only sections were covered. Our guess is that they're removing the hand-railings that currently delineate individual rows of the trams.
While nice in theory, they seem to create less good than one might expect. Perhaps instead of railing, lines delineated on the ground with markers similar to how attraction vehicles have row numbers would help minimize what happens when there's not railings… guests just stand in an unorganized huddle at each bay ready to claw their way forward.
Merch Run
Special on select plush!
Pumpkin Mickey Loungefly backpacks are velvety soft.
Haunted Mansion merch abound.
Grim grinning ghosts gleam from Wishables merch stands.
Star Wars X TOMS
If you're at Curl Surf in Downtown Disney, you can pick yourself up one of several different kinds of STAR WARS X TOMS shoes. The kind folks at TOMS sent us some shoes in return for sharing it with our readers here on MouseInfo. After we got them in the mail, we couldn't help but to take them with us straight to Batuu!
MORE INFO: The Force is strong with the new #StarWarsxTOMS collaboration
It's Halloween Time!
With the sweltering heat of late, it's hard to believe that it's once again Halloween Time at Disneyland Resort but the pumpkins, orange bunting, food, and entertainment are setting the scene for a perfectly autumnal celebration. ENDS October 31, 2019!
MORE INFO: PICTORIAL: Halloween Time 2019 at Disneyland Resort brings familiar seasonal sights, sounds, and tastes!
Hungry for Halloween?
We take to the Happiest Place on Earth to take in the sights, sounds, smells, and flavors of the season! Check out our guide to 2019 Halloween Time food and beverages! ENDS October 31, 2019!
MORE INFO: FIRST TASTE: Disneyland Halloween Time 2019 bites, sips, sweets, and treats!
Starbucks, Halloween Time
If you're going to Disneyland Resort Starbucks locations you can opt for a special Halloween Time treat with two limited time special drink offerings: Maleficent Frappuccino (Blueberry and Vanilla Bean Creme Frappuccino topped with Matcha Tea Whipped Cream) or the Dr. Facilier Elixir (layered chai tea with lemonade and a splash of passion fruit tea). ENDS October 31, 2019!
Starbucks, Electrical
If a stop to Disneyland's Market House Starbucks is usually in your itinerary, then you might be excited to know that two Disneyland exclusive drinks — crafted by Cast Members at the location — will be available through the run of the Main Street Electrical Parade!
The two concoctions are the Neverland Sunset (lemonade, peach juice and passion fruit tea) and the Wonderland Frappuccino (mocha frapuccino with a swirl of strawberry puree) paying tribute to iconic floats from the twinkling spectacle of nighttime magic and imagination! ENDS September 30, 2019!
Oogie Boogie Bash
Disney California Adventure will take up the mantel of hosting Disneyland's Halloween Party this year and the whole event gets a whole new name and focus with the upcoming debut of OOGIE BOOGIE BASH – A DISNEY HALLOWEEN PARTY!
Tickets are sold out online but MAY be available by phone for select dates by calling 714-781-4636.
MORE INFO: OOGIE BOOGIE BASH brings new World of Color, Mickey show, Villain trail, and more to DCA in 2019
Glowing Away Soon
The Main Street Electrical Parade is back for a special summer encore and it brings with it special treats and merch options but enjoy it while you can! ENDS September 30, 2019.
MORE INFO: WATCH: Disneyland gets lit with return of 'Main Street Electrical Parade' plus special food and merch
Magical Savings on Admission
It's one of the questions we get asked the most, how can you save a little money on Disneyland tickets? Below is what's available now.
US Military discounts for tickets and hotels; Disneyland, Walt Disney World. (MORE INFO)
Canadian Resident discount for multi-day tickets: Disneyland Resort and Walt Disney World. (MORE INFO)
Tee Time!
If you are looking for a way to help support the site so we can continue to bring you more info about the mouse, feel free to browse our TeePublic Store! Aside from tees and apparel, you can also find stickers, phone & laptop cases, mugs, and more!
SHOP NOW: Find more designs and products at our store: mouseinfo.com/tees.
THE END!